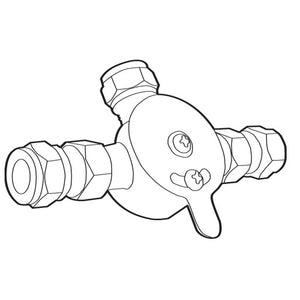 Model: 104424
Commercial Mixing Valve With Check Valves
From leaks and vandalism to normal wear and tear, worries never cease where commercial and institutional fixtures are concerned. That's why Moen® Commercial engineers and designers think of every imaginable scenario - and plan for it in advance. The result is a full line of faucets and valves every facilities manager can rely on from Moen. Our products will help you:
1) reduce maintenance costs
2) resist vandalism
3) save water while maintaining performance
4) cut your total cost of ownership
We welcome you to discover all the reasons you can count on Moen Commercial to provide the best solutions for your most challenging environments.
chrome finish is highly reflective for a mirror-like look that works with any decorating style
5 year limited warranty