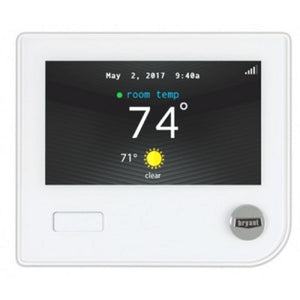 Bryant® - SYSTXBBWEC01-B White Evolution® Connex™ Control with Wi-Fi® Capability
EVOLUTION® CONNEX™ CONTROL
Bryant® specializes in creating a customized home comfort system tailored to your needs with our broad selection of residential heating and cooling products. The Evolution® Connex™ Control is the ultimate control center for all of your system components. When you add an Evolution® Connex™ Control to a compatible variable speed furnace, fan coil, Evolution® System split or package unit, or small packaged product, you will enjoy longer heating and cooling cycles at lower fan speeds for a more consistent temperature throughout your home. By adding a variable speed, multi-stage, or 2-stage outdoor unit, you will enjoy extra benefits which include better humidity and temperature control as well as a more energy efficient comfort system. When paired with Evolutionr Zoning controls, the Evolution® Connex™ Control allows you to create up to 8 zones of customized comfort.
The Evolutionr® Zoning system does not require a bypass damper, leaving air temperature (LAT) sensor, or field-installed power transformer.
Always install the latest version of software to enable all features of the system.
Over-the-Air software updates for Wi-Fi models connected to the Evolution server are automatically downloaded. Software updates via MicroSD are available on HVACpartners, or at www.MyEvolutionConnex.com.

FEATURES / BENEFITS
Bryant's revolutionary Evolution® Connex™ Control is the smart control of the future. Its unique system self-configuration and diagnostics capabilities make installation and service fast and accurate, helping to avoid costly call-backs. The Evolution® Connex™ Control features a high resolution display, making it easier to read. Intuitive prompts let you program everything from humidity levels to fan speeds, giving you the ultimate control over your home comfort. Other features include:
4-wire installation from each major component in the system
2-wire connection to Evolution® System two or more stage outdoor equipment (including geothermal split units)
Evolution® Zoning System compatibility
Occupancy sensing to provide comfort when spaces are occupied and energy savings when they're not
Intuitive on-screen prompts for ease of installation and service
Perfect Humidity™ System settings are the default no longer requiring increased system setup
Complete integration of the temperature, humidity and ventilation in every season
For Zoned Systems, auto mode selection to satisfy simultaneous heating and cooling demands in different zones via more aggressive Auto Changeover algorithm-installer must enable
7-day programmability with Lifestyle Comfort Profiles and Touch-N-Go® features, complies with California Title 24 programmability requirements
Easy timed-override schedule
Simplified vacation schedules
Day-at-a-glance programming for simplified ease of use
Programmable fan by period
TrueSense™ Dirty Filter Detection
Indoor Air Quality pop up service reminders
General maintenance reminder messaging
Wi-Fi® remote access capability
Upload photo, dealer info, and software updates locally via MicroSD card. Software updates available automatically when connected to the Evolution web server.
Compatible with home automation through the SYSTXBBRCT01 or SYSTXBBRWF01 system access modules, or via the Côr Home automation app or Amazon™ Alexa™ interface
Compatible with Evolution® System geothermal products (GC and GZ models). Energy Tracking feature for geothermal systems is available with Entering Water Temperature sensor installed in heat pump.